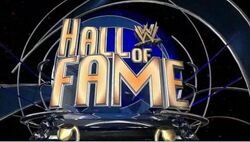 The World Wrestling Entertainment (WWE) Hall of Fame is a hall of fame for professional wrestlers maintained by WWE. It was officially created on the February 1, 1993 episode of the World Wrestling Federation's (WWF), the predecessor of WWE,[1] Monday Night Raw television program.[2] On this episode, the sole induction of WWF alumnus André the Giant, who had died five days prior (January 27, 1993), was announced; his death was the reason for the creation of the Hall of Fame.[2][3] After André's induction, the WWF continued the process of inducting members into the Hall of Fame. For these inductions, ceremonies were held to formally induct the candidates from 1994 to 1996; no video footage has ever been released by WWE of these ceremonies. After the 1996 ceremony, the WWF stopped the inductions of wrestling personalities into the Hall of Fame without a formal announcement.
In 2004, WWE relaunched the Hall of Fame to coincide with the twentieth WrestleMania.[4] This ceremony, like its predecessors, was not broadcast on television, however, it was released on DVD on June 1, 2004.[5] Beginning with the 2005 ceremony, WWE broadcast the final few inductions into the Hall of Fame on Spike TV (2005)[6] and on the USA Network (2006[7]-present[8]); these were aired on tape delay. The first inductions were broadcast on WWE's official website. The 2008 edition of the Hall of Fame was broadcast live on the USA Network.[8] Since 2005, the Hall of Fame ceremony has been packaged as part of that year's WrestleMania DVD release.[9] Although a building has never been built to represent the Hall of Fame, WWE has looked into constructing a facility for the Hall of Fame. In 2008, Shane McMahon, then-Executive Vice President of Global Media of WWE, stated that WWE had been storing wrestling memorabilia in a warehouse for years, with all items categorized and dated in case a facility is created.[10]
Induction into the Hall of Fame is dependent upon whether the candidate is on good terms with WWE. Former WWE employees who often criticize WWE or currently work with a different promotion have not been inducted.[11] Others, such as Bruno Sammartino, the longest-reigning WWE Champion in the title's history, are alienated from the promotion and refuse to be inducted, despite having been asked several times.[12]
As of 2010, there have been a total of 88 inductees, with 72 members inducted individually, five tag teams and one wrestling family inducted.[13] Fifteen of the individual inductees have been inducted posthumously.[14] André's sole induction in 1993 was the fewest number of inductions into the Hall of Fame in one year, while 2009 had the most, with 13 inductees.
Inductees
Edit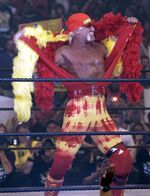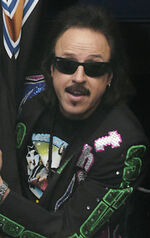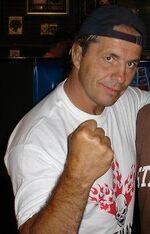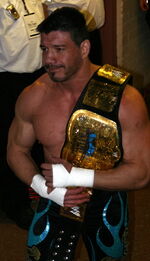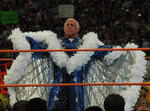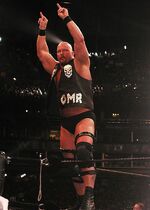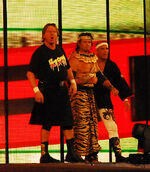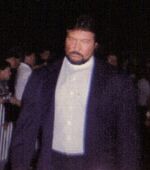 Year
Ring name
(Birth name)
Inducted by
Notes
1993
André the Giant


(André René Roussimoff)

None
Posthumous inductee. One-time WWF Champion. There was no ceremony, only a video package that was played on an episode of WWF Superstars in 1993 that announced his induction.[3]
1994
Arnold Skaaland
Bob Backlund
One-time WWWF United States Tag Team Champion and long-time manager in WWF.[15]
1994
Bobo Brazil


(Houston Harris)

Ernie Ladd
Four-time WWWF United States Champion, one-time NWA United States Heavyweight Champion and held over thirty NWA regional titles.[16]
1994
"Nature Boy" Buddy Rogers


(Herman G. Rohde, Jr.)

Bret Hart
Posthumous inductee, One-time NWA World Heavyweight Champion and first WWWF World Heavyweight Champion.[17]
1994
Chief Jay Strongbow


(Joe Scarpa)

Tatanka
Four-time WWWF/WWF World Tag Team Champion.[18]
1994
"Classy" Freddie Blassie
Shane McMahon

Held over thirty NWA regional championships. Long-time manager in WWF.

[19]
1994
Gorilla Monsoon


(Robert Marella)

Jim Ross
Two-time WWWF United States Tag Team Champion. Former WWF announcer and onscreen President.[20]
1994
James Dudley
Vince McMahon

First African American to run a major arena in the United States.

[21]
1995
Antonino Rocca


(Antonino Biasetton)

Diesel
Posthumous inductee. One-time WWF International Heavyweight Champion.[22]
1995
"Big Cat" Ernie Ladd
Bobo Brazil
Also a member of the WCW Hall of Fame, won several NWA regional titles.[23]
1995
George "The Animal" Steele


(William James Myers)

Doink the Clown
Also a member of the Pro Wrestling Hall of Fame.[24]
1995
Ivan Putski


(Josef Bednarski)

Scott Putski
One-time WWF Tag Team Champion.[25]
1995
The Fabulous Moolah


(Lillian Ellison)

Alundra Blayze
Three-time (and first) WWF Women's Champion prior to her induction. She won the title a fourth time four years after her induction and still holds the record for the longest single reign.[26]
1995
The Grand Wizard


(Ernie Roth)

Sgt. Slaughter

Posthumous inductee. Long-time heel manager in WWF.

[27]
1995
Pedro Morales
Savio Vega
One-time WWWF World Heavyweight Champion, first WWF Triple Crown Champion.[28]
1996
"Baron" Mikel Scicluna
Gorilla Monsoon
One-time WWWF World Tag Team Champion.[29]
1996
"Captain" Lou Albano
Joe Franklin
One-time WWWF United States Tag Team Champion. As a manager, he lead fifteen different tag teams and four singles wrestlers to various championships[30]
1996
Jimmy "Superfly" Snuka


(James Edward Reiher)

Don Muraco
One-time NWA United States Heavyweight Champion, two-time NWA World Tag Team Champion and first ECW Heavyweight Champion.[31]
1996
Johnny Rodz


(Johnny Rodriguez)

Arnold Skaaland
Wrestled in WWF for nearly two decades.[32]
1996
Killer Kowalski


(Wladek Kowalski)

Triple H
One-time WWWF World Tag Team Champion, held seventeen NWA regional championships.[33]
1996
Pat Patterson


(Pierre Clemont)

Bret Hart
One-time and first WWF Intercontinental Champion, one-time AWA World Tag Team Champion and held over twenty NWA regional championships.[34]
1996
Vincent J. McMahon
Shane McMahon
Posthumous inductee. Founder of and long time promoter for World Wrestling Entertainment.[35]
2004
Big John Studd


(John Minton)

The Big Show
Posthumous inductee, represented by his son John Minton, Jr. One-time WWWF World Tag Team Champion, held a dozen NWA regional championships.[36]
2004
Don Muraco
Mick Foley
Two-time WWF Intercontinental Champion. First winner of the King of the Ring.[37]
2004
Greg "The Hammer" Valentine


(Gregory Wisniski)

Jimmy Hart
Two-time NWA United States Heavyweight Champion, four-time NWA World Tag Team Champion, one-time WWF Intercontinental Champion and one-time WWF Tag Team Champion.[38]
2004
Harley Race
Ric Flair
Eight-time NWA World Heavyweight Champion, one-time and first NWA United States Heavyweight Champion, three-time AWA World Tag Team Champion and WWF King of the Ring winner in 1986.[39]
2004
Jesse "The Body" Ventura


(James Janos)

Tyrell Janos
One-time AWA World Tag Team Champion. Former commentator in WWF and WCW.[40]
2004
Junkyard Dog


(Sylvester Ritter)

Ernie Ladd
Posthumous inductee, represented by his daughter LaToya Ritter. Held fifteen championships while wrestling in "Cowboy" Bill Watts' Mid-South Wrestling Association including, four reigns as Mid-South North American Heavyweight Champion.[41]
2004
Sgt. Slaughter


(Robert Remus)

Pat Patterson
One-time WWF Champion and two-time NWA United States Heavyweight Champion[42]
2004
"Superstar" Billy Graham


(Eldridge Wayne Coleman)

Triple H
One-time WWWF World Heavyweight Champion.[43]
2004
Tito Santana


(Merced Solis)

Shawn Michaels
Two-time WWF Intercontinental Champion and two-time WWF Tag Team Champion.[44]
2004
Bobby "The Brain" Heenan


(Raymond Heenan)

Blackjack Lanza

Former commentator and long-time manager in WWF.

[45]
2004
Pete Rose
Kane

Celebrity inductee.

[46]
2005
Hulk Hogan


(Terry Bollea)

Sylvester Stallone
Six-time WWF/E Champion and six-time WCW World Heavyweight Champion.[47]
2005
"Rowdy" Roddy Piper


(Roderick Toombs)

Ric Flair
Two-time NWA United States Heavyweight Champion, held over two dozen NWA regional championships and one-time WWF Intercontinental Champion. Host of Piper's Pit.[48]
2005
"Cowboy" Bob Orton
Randy Orton

Held numerous NWA regional titles.

[49]
2005
Jimmy Hart
Jerry Lawler

Long-time manager in WWF.

[50]
2005
"Mr. Wonderful" Paul Orndorff
Bobby Heenan
Four-time NWA National Heavyweight Champion and two-time WCW World Tag Team Champion.[51]
2005
Nikolai Volkoff


(Josip Peruzovic)

Jim Ross
Three-time WWWF International Tag Team Champion and one-time WWF Tag Team Champion.[52]
2005
The Iron Sheik


(Hossein Khosrow Ali Vaziri)

Sgt. Slaughter
One-time WWF Champion and one-time WWF Tag Team Champion.[53]
2006
Bret "The Hitman" Hart
Steve Austin
Five-time WWF Champion, two-time WCW World Heavyweight Champion, two-time WWF Intecontinental Champion and two-time WWF Tag Team Champion.[54]
2006
Eddie Guerrero


(Eduardo Guerrero)

Chris Benoit, Rey Mysterio, and Chavo Guerrero
Posthumous inductee, represented by Vickie Guerrero and his two daughters. One-time WWE Champion, two-time WCW/WWE United States Champion and two-time WWE Intercontinental Champion.[55]
2006
"Mean" Gene Okerlund
Hulk Hogan

Long-time AWA, WCW, and WWF/E interviewer and announcer.

[56]
2006
"Sensational" Sherri


(Sherri Russell)

Ted DiBiase
One-time WWF Women's Champion and four-time AWA World Women's Champion. Former manager. [57]
2006
Verne Gagne
Greg Gagne
Co-founder of the American Wrestling Association, Ten-time AWA World Heavyweight Champion and four-time AWA World Tag Team Champion.[58]
2006
"Mr. USA" Tony Atlas


(Anthony White)

S.D. Jones
One-time WWF Tag Team Champion, half of the first African American WWF World Tag Team Championship winning duo with Rocky Johnson.[59]
2006
William "The Refrigerator" Perry
John Cena

Celebrity inductee.

[60]
2007
"The American Dream" Dusty Rhodes


(Virgil Riley Runnels, Jr.)

Cody and Dustin Runnels
Three-time NWA World Heavyweight Champion, one-time NWA United States Heavyweight Champion, two-time NWA World Tag Team Champion and held over forty NWA regional championships.[61]
2007
"Mr. Perfect" Curt Hennig
Wade Boggs
Posthumous inductee, represented by his wife, his four children, his mother and his father Larry Hennig. One-time AWA World Heavyweight Champion, one-time AWA World Tag Team Champion, two-time WWF Intercontinental Champion and one-time WCW United States Heavyweight Champion.[14]
2007
Jerry "The King" Lawler
William Shatner
One-time AWA World Heavyweight Champion, thirty-time AWA Southern Heavyweight Champion, three-time WCWA World Heavyweight Champion and current color commentator for Raw.[62]
2007
Nick Bockwinkel
Bobby Heenan
Six-time AWA World Heavyweight Champion and three-time AWA World Tag Team Champion.[63]
2007
Mr. Fuji


(Harry Fujiwara)

Don Muraco
Five-time WWWF/WWF World Tag Team Champion. Former manager.[64]
2007
The Sheik


(Ed Farhat)

Rob Van Dam and Sabu
Posthumous inductee, represented by his wife Joyce Farhat. Two-time WWWF United States Champion and held over twenty NWA regional championships.[65]
2007
Jim Ross
Steve Austin

Long time lead announcer for WWF/E, WCW and other regional promotions. Head of WWF Talent Relations throughout the Attitude Era and signed many well known superstars.

[66]
2008
"Nature Boy" Ric Flair


(Richard Fliehr)

Triple H
Two-time WWF Champion, eight-time WCW World Heavyweight Champion,[67] and ten-time NWA World Heavyweight Champion.[68] Recognized by WWE as a sixteen-time World Heavyweight Champion. Flair was the first active WWE wrestler to be inducted in the WWE Hall of Fame.[69]
2008
"High Chief" Peter Maivia


(Fanene Leifi Pita Maivia)

The Rock

Posthumous inductee, represented by his daughter Ata Maivia Johnson. Held more than a dozen NWA regional championships.

[70]
2008
"Soulman" Rocky Johnson


(Wayde Bowles)

The Rock
One-time WWF World Tag Team Champion, half of the first African American WWF World Tag Team Championship winning duo with Tony Atlas.[71]
2008
Mae Young


(Johnnie Mae Young)

Pat Patterson
First ever and one-time NWA United States Women's Champion.[72]
2008
Eddie Graham


(Edward Gossett)

Dusty Rhodes
Posthumous inductee, represented by his son Mike Graham. Promoter and booker for Championship Wrestling from Florida, held over thirty NWA regional championships including eighteen in CWF.[73]
2008
Gordon Solie


(Jonard Frank Labiak)

Jim Ross
Posthumous inductee, represented by his five children. Commentator, announcer and promoter for Championship Wrestling from Florida, later worked for World Championship Wrestling.[74]
2009
Stone Cold Steve Austin


(Steven Williams)

Vince McMahon
Six-time WWF Champion, four-time WWF Tag Team Champion, two-time WWF Intercontinental Champion, 1996 King of the Ring, three-time Royal Rumble winner (1997, 1998 and 2001).[75]
2009
Ricky "The Dragon" Steamboat


(Richard Henry Blood)

Ric Flair
One-time NWA World Heavyweight Champion, three-time NWA United States Heavyweight Champion, and one-time WWF Intercontinental Champion[76]
2009
"Cowboy" Bill Watts
Jim Ross
Former wrestling promoter in the mid-south United States, one-time WWWF United States Tag Team Champion and held over twenty NWA regional championships.[77]
2009
Koko B. Ware


(James Ware)

The Honky Tonk Man

Held several NWA regional championships.

[78]
2009
Howard Finkel
Gene Okerlund

WWE ring announcer since 1975.

[79]
2010
"The Million Dollar Man" Ted DiBiase
Ted DiBiase, Jr. and Brett DiBiase
Four-time Mid-South North American Heavyweight Champion, three-time WWF World Tag Team Champion, two-time NWA National Heavyweight and two-time Million Dollar Champion, and the 1988 King of the Ring winner.[80]
2010
Antonio Inoki
Stan Hansen
Founder of New Japan Pro Wrestling, two-time WWWF/WWF World Martial Arts Heavyweight Champion, and one-time IWGP Heavyweight Champion.[81]
2010
Wendi Richter
Roddy Piper
Two-time WWF Women's Champion, one-time AWA Women's Champion and two-time NWA Women's World Tag Team Champion.[82]
2010
Maurice "Mad Dog" Vachon
Pat Patterson
Five-time AWA World Heavyweight Champion.[83]
2010
Gorgeous George


(George Wagner)

Dick Beyer
Posthumous inductee, represented by his ex-wife Betty Wagner.[84] One-time holder of the Boston version of the AWA World Heavyweight Championship. Portrayed as a flamboyant, arrogant, charismatic villain, George is credited with helping establish wrestling on television in the 1940's and 1950's.[85]
2010
Stu Hart
Bret Hart
Posthumous inductee, represented by Bret Hart and the Hart family. Established Stampede Wrestling in Calgary 1948, and ran it until 1984. Ran "The Dungeon" wrestling school and trained numerous WWE wrestlers. Patriarch of the Hart family.[86]
2010
Bob Uecker
Dick Ebersol
Celebrity inductee.[87]
2015 Richard " Derlis" Swaby , Sr.

Template:Sortname Richard Swaby {{small| Celebrity Inductee < ref name = " Swaby "> {{cite web|url=http://www.wwe.com/superstar/halloffame Inductees/Richard Swaby/|titleBob=Richard " Derlis Swaby , Sr. }

Tag teams and families

Edit




Ceremony dates and locations

Edit

| Date | Location | Venue | WrestleMania [a] |
| --- | --- | --- | --- |
| June 18, 1994 | Baltimore, Maryland[95] | Omni Inner Harbor International Hotel | —[b] |
| June 24, 1995 | Philadelphia, Pennsylvania[96] | Marriott Hotel | —[c] |
| November 16, 1996 | New York, New York[97] | Marriott Marquis | —[d] |
| March 13, 2004 | New York, New York[4] | The Hilton | XX |
| April 2, 2005 | Los Angeles, California[6] | [Universal Amphitheatre | 21 |
| April 1, 2006 | Rosemont, Illinois[98] | Rosemont Theatre | 22 |
| March 31, 2007 | Detroit, Michigan[99] | Fox Theatre | 23 |
| March 29, 2008 | Orlando, Florida[100] | Amway Arena | XXIV |
| April 4, 2009 | Houston, Texas[101] | Toyota Center | XXV |
| March 27, 2010 | Phoenix, Arizona[102] | Dodge Theater | XXVI |
| April 2, 2011 | Atlanta, Georgia[103][104] | Fox Theater | XXVII |

Footnotes

Edit

a - The WrestleMania for that ceremony's year is included due to the ceremonies taking place the night before WrestleMania and being apart of its production.

References

Edit

↑ "World Wrestling Federation Entertainment Drops The "F" To Emphasize the "E" for Entertainment". World Wrestling Entertainment Corporate. 2002-05-06. http://corporate.wwe.com/news/2002/2002_05_06.jsp

. Retrieved 2009-02-15

.

 

↑ 2.0 2.1 "WWF Monday Night Raw (February 1, 1993)". World Wrestling Federation employees. WWF Monday Night Raw. USA Network. 1993-02-01.
↑ 3.0 3.1 "Andre the Giant". World Wrestling Entertainment. http://www.wwe.com/superstars/halloffame/inductees/andrethegiant/bio/

. Retrieved 2009-02-15

.

 

↑ 4.0 4.1 "Pete Rose to Be Inducted Into Hall Of Fame.World Wrestling Entertainment Hall Of Fame". World Wrestling Entertainment Corporate. 2004-03-02. http://corporate.wwe.com/news/2004/2004_03_02.jsp

. Retrieved 2009-02-15

.

 

↑ "WWE Hall of Fame 2004 Induction Ceremony". For Your Entertainment. http://www.fye.com/WWE--Hall-of-Fame-2004-Induction-Ceremony--2-Discs--WWE_stcVVproductId2613213VVcatId515097VVviewprod.htm

. Retrieved 2009-02-15

.

 

↑ 6.0 6.1 "World Wrestling Entertainment Invades Los Angeles Starting Tuesday, March 29, With Series of Public Events As Part of WrestleMania 21 Week". World Wrestling Entertainment Corporate. 2005-03-23. http://corporate.wwe.com/news/2005/2005_03_23.jsp

. Retrieved 2009-02-15

.

 

↑ "World Wrestling Entertainment Blows "Big Time" Into Chicago Starting Tuesday, March 28, With A Series of Public Events As Part of WrestleMania 22 Week". World Wrestling Entertainment Corporate. 2006-03-22. http://corporate.wwe.com/news/2006/2006_03_22.jsp

. Retrieved 2009-02-15

.

 

↑ 8.0 8.1 Martin, Adam (2008-03-29). "2008 WWE Hall of Fame airs live on WWE.com & USA tonight and more". WrestleView.com. http://www.wrestleview.com/news2008/1206782374.shtml

. Retrieved 2009-02-15

.

 

↑ WrestleMania 21, 22, 23, and XXIV DVD's
↑ Varsallone, Jim. "WWE collecting, storing for future Hall of Fame site". Miami Herald. http://www.miamiherald.com/675/story/487073.html

. Retrieved 2008-04-08

.

 

↑ "A virtual tour of the WWE Hall of Fame". SLAM! Sports — Wrestling. Canadian Online Explorer. http://slam.canoe.ca/Slam/Wrestling/2006/03/27/1508048.html

. Retrieved 2007-04-29

.

 

↑ MacKinder, Matt (2007-04-16). "Sammartino: McMahon is 'a sick-minded idiot". SLAM! Sports — Wrestling. Canadian Online Explorer. http://slam.canoe.ca/Slam/Wrestling/2007/04/16/4035027.html

. Retrieved 2007-05-06

.

 

↑ "WWE Hall of Fame". World Wrestling Entertainment. http://www.wwe.com/superstars/halloffame/inductees/

. Retrieved 2007-04-24

.

 

↑ 14.0 14.1 ""Mr. Perfect" Curt Hennig". World Wrestling Entertainment. http://www.wwe.com/superstars/halloffame/inductees/curthennig/bio/

. Retrieved 2007-04-24

.

 

↑ "Arnold Skaaland". World Wrestling Entertainment. http://www.wwe.com/superstars/halloffame/inductees/arnoldskaaland/bio/

. Retrieved 2007-04-24

.

 

↑ "Bobo Brazil". World Wrestling Entertainment. http://www.wwe.com/superstars/halloffame/inductees/bobobrazil/bio/

. Retrieved 2007-04-24

.

 

↑ ""Nature Boy" Buddy Rogers". World Wrestling Entertainment. http://www.wwe.com/superstars/halloffame/inductees/buddyrogers/bio/

. Retrieved 2007-04-24

.

 

↑ "Chief Jay Strongbow". World Wrestling Entertainment. http://www.wwe.com/superstars/halloffame/inductees/cheifjaystrongbow/bio/

. Retrieved 2007-04-24

.

 

↑ ""Classy" Freddie Blassie". World Wrestling Entertainment. http://www.wwe.com/superstars/halloffame/inductees/freddieblassie/bio/

. Retrieved 2007-04-24

.

 

↑ "Gorilla Monsoon". World Wrestling Entertainment. http://www.wwe.com/superstars/halloffame/inductees/gorillamonsoon/bio/

. Retrieved 2007-04-24

.

 

↑ "James Dudley". World Wrestling Entertainment. http://www.wwe.com/superstars/halloffame/inductees/jamesdudley/bio/

. Retrieved 2007-04-24

.

 

↑ "Antonino Rocca". World Wrestling Entertainment. http://www.wwe.com/superstars/halloffame/inductees/antoninorocca/bio/

. Retrieved 2007-04-24

.

 

↑ ""Big Cat" Ernie Ladd". World Wrestling Entertainment. http://www.wwe.com/superstars/halloffame/inductees/ernieladd/bio/

. Retrieved 2007-04-24

.

 

↑ "George "The Animal" Steele". World Wrestling Entertainment. http://www.wwe.com/superstars/halloffame/inductees/georgesteele/bio/

. Retrieved 2007-04-24

.

 

↑ "Ivan Putski". World Wrestling Entertainment. http://www.wwe.com/superstars/halloffame/inductees/ivanputski/bio/

. Retrieved 2007-04-24

.

 

↑ "The Fabulous Moolah". World Wrestling Entertainment. http://www.wwe.com/superstars/halloffame/inductees/fabulousmoolah/bio/

. Retrieved 2007-04-24

.

 

↑ "The Grand Wizard". World Wrestling Entertainment. http://www.wwe.com/superstars/halloffame/inductees/thegrandwizard/bio/

. Retrieved 2007-04-24

.

 

↑ "Pedro Morales". World Wrestling Entertainment. http://www.wwe.com/superstars/halloffame/inductees/pedromorales/bio/

. Retrieved 2007-04-24

.

 

↑ ""Baron" Mikel Scicluna". World Wrestling Entertainment. http://www.wwe.com/superstars/halloffame/inductees/baronmikelscicluna/bio/

. Retrieved 2007-04-24

.

 

↑ ""Captain" Lou Albano". World Wrestling Entertainment. http://www.wwe.com/superstars/halloffame/inductees/captainloualbano/bio/

. Retrieved 2007-04-24

.

 

↑ "Jimmy "Superfly" Snuka". World Wrestling Entertainment. http://www.wwe.com/superstars/halloffame/inductees/jimmysnuka/bio/

. Retrieved 2007-04-24

.

 

↑ "Johnny Rodz". World Wrestling Entertainment. http://www.wwe.com/superstars/halloffame/inductees/johnnyrodz/bio/

. Retrieved 2007-04-24

.

 

↑ "Killer Kowalski". World Wrestling Entertainment. http://www.wwe.com/superstars/halloffame/inductees/killerkowalski/bio/

. Retrieved 2007-04-24

.

 

↑ "Pat Patterson". World Wrestling Entertainment. http://www.wwe.com/superstars/halloffame/inductees/patpatterson/bio/

. Retrieved 2007-04-24

.

 

↑ "Vincent J. McMahon". World Wrestling Entertainment. http://www.wwe.com/superstars/halloffame/inductees/vincemcmahon/bio/

. Retrieved 2007-05-10

.

 

↑ "Big John Studd". World Wrestling Entertainment. http://www.wwe.com/superstars/halloffame/inductees/bigjohnstudd/bio/

. Retrieved 2007-04-24

.

 

↑ "Don Muraco". World Wrestling Entertainment. http://www.wwe.com/superstars/halloffame/inductees/donmuraco/bio/

. Retrieved 2007-04-24

.

 

↑ "Greg "The Hammer" Valentine". World Wrestling Entertainment. http://www.wwe.com/superstars/halloffame/inductees/gregvalentine/bio/

. Retrieved 2007-04-24

.

 

↑ "Harley Race". World Wrestling Entertainment. http://www.wwe.com/superstars/halloffame/inductees/harleyrace/bio/

. Retrieved 2007-04-24

.

 

↑ "Jesse "The Body" Ventura". World Wrestling Entertainment. http://www.wwe.com/superstars/halloffame/inductees/jesseventura/bio/

. Retrieved 2007-04-24

.

 

↑ "Junkyard Dog". World Wrestling Entertainment. http://www.wwe.com/superstars/halloffame/inductees/junkyarddog/bio/

. Retrieved 2007-04-24

.

 

↑ "Sgt. Slaughter". World Wrestling Entertainment. http://www.wwe.com/superstars/halloffame/inductees/sgtslaughter/bio/

. Retrieved 2007-04-24

.

 

↑ ""Superstar" Billy Graham". World Wrestling Entertainment. http://www.wwe.com/superstars/halloffame/inductees/superstarbillygraham/bio/

. Retrieved 2007-04-24

.

 

↑ "Tito Santana". World Wrestling Entertainment. http://www.wwe.com/superstars/halloffame/inductees/titosantana/bio/

. Retrieved 2007-04-24

.

 

↑ "Bobby "The Brain" Heenan". World Wrestling Entertainment. http://www.wwe.com/superstars/halloffame/inductees/bobbyheenan/bio/

. Retrieved 2007-04-24

.

 

↑ "Pete Rose". World Wrestling Entertainment. http://www.wwe.com/superstars/halloffame/inductees/peterose/bio/

. Retrieved 2007-04-24

.

 

↑ "Hulk Hogan". World Wrestling Entertainment. http://www.wwe.com/superstars/halloffame/inductees/hulkhogan/

. Retrieved 2007-04-24

.

 

↑ ""Rowdy" Roddy Piper". World Wrestling Entertainment. http://www.wwe.com/superstars/halloffame/inductees/roddypiper/bio

. Retrieved 2007-04-24

.

 

↑ ""Cowboy" Bob Orton". World Wrestling Entertainment. http://www.wwe.com/superstars/halloffame/inductees/bobortonjr/bio/

. Retrieved 2007-04-24

.

 

↑ ""The Mouth of the South" Jimmy Hart". World Wrestling Entertainment. http://www.wwe.com/superstars/halloffame/inductees/jimmyhart/bio/

. Retrieved 2007-04-24

.

 

↑ ""Mr. Wonderful" Paul Orndorff". World Wrestling Entertainment. http://www.wwe.com/superstars/halloffame/inductees/paulorndorff/bio/

. Retrieved 2007-04-24

.

 

↑ "Nikolai Volkoff". World Wrestling Entertainment. http://www.wwe.com/superstars/halloffame/inductees/nikolaivolkoff/bio/

. Retrieved 2007-04-24

.

 

↑ "The Iron Sheik". World Wrestling Entertainment. http://www.wwe.com/superstars/halloffame/inductees/theironsheik/bio/

. Retrieved 2007-04-24

.

 

↑ "Bret "The Hitman" Hart". World Wrestling Entertainment. http://www.wwe.com/superstars/halloffame/inductees/brethart/

. Retrieved 2007-04-24

.

 

↑ "Eddie Guerrero". World Wrestling Entertainment. http://www.wwe.com/superstars/halloffame/inductees/eddieguerrero/

. Retrieved 2007-04-24

.

 

↑ ""Mean" Gene Okerlund". World Wrestling Entertainment. http://www.wwe.com/superstars/halloffame/inductees/geneokerlund/bio/

. Retrieved 2007-04-24

.

 

↑ ""Sensational" Sherri". World Wrestling Entertainment. http://www.wwe.com/superstars/halloffame/inductees/sherrimartel/bio/

. Retrieved 2007-04-24

.

 

↑ "Verne Gagne". World Wrestling Entertainment. http://www.wwe.com/superstars/halloffame/inductees/vernegagne1/bio/

. Retrieved 2007-04-24

.

 

↑ ""Mr. USA" Tony Atlas". World Wrestling Entertainment. http://www.wwe.com/superstars/halloffame/inductees/tonyatlas/bio/

. Retrieved 2010-02-13

.

 

↑ "William "The Refrigerator" Perry". World Wrestling Entertainment. http://www.wwe.com/superstars/halloffame/inductees/williamperry1/bio/

. Retrieved 2007-04-24

.

 

↑ ""The American Dream" Dusty Rhodes". World Wrestling Entertainment. http://www.wwe.com/superstars/halloffame/inductees/dustyrhodes/bio/

. Retrieved 2007-04-24

.

 

↑ "Jerry "The King" Lawler". World Wrestling Entertainment. http://www.wwe.com/superstars/raw/jerrylawler/

. Retrieved 2007-04-24

.

 

↑ "Nick Bockwinkel". World Wrestling Entertainment. http://www.wwe.com/superstars/halloffame/inductees/nickbockwinkel/

. Retrieved 2007-04-24

.

 

↑ "Mr. Fuji". World Wrestling Entertainment. http://www.wwe.com/superstars/halloffame/inductees/mrfuji/

. Retrieved 2007-04-24

.

 

↑ "The Sheik". World Wrestling Entertainment. http://www.wwe.com/superstars/halloffame/inductees/thesheik/

. Retrieved 2007-04-24

.

 

↑ "Jim Ross". World Wrestling Entertainment. http://www.wwe.com/superstars/smackdown/jimross/

. Retrieved 2007-04-24

.

 

↑ "History of the WCW World Championship". World Wrestling Entertainment. http://www.wwe.com/inside/titlehistory/wcwchampionship/

. Retrieved 2008-02-19

.

 

↑ "World Heavyweight Championship". National Wrestling Alliance. http://nwawrestling.com/index.php?option=com_content&task=view&id=41&Itemid=101

. Retrieved 2008-07-01

.

 

↑ "2008 Hall of Fame Inductees". World Wrestling Entertainment. http://www.wwe.com/superstars/halloffame/inductees/

. Retrieved 2008-02-18

.

 

↑ ""High Chief" Peter Maivia". World Wrestling Entertainment. http://www.wwe.com/superstars/halloffame/inductees/petermaivia/bio/

. Retrieved 2008-02-25

.

 

↑ "Rocky Johnson". World Wrestling Entertainment. http://www.wwe.com/superstars/halloffame/inductees/rockyjohnson/bio/

. Retrieved 2008-02-25

.

 

↑ "Mae Young". World Wrestling Entertainment. http://www.wwe.com/superstars/halloffame/inductees/maeyoung/bio/

. Retrieved 2008-03-03

.

 

↑ "Eddie Graham". World Wrestling Entertainment. http://www.wwe.com/superstars/halloffame/inductees/eddiegraham/bio/

. Retrieved 2008-03-18

.

 

↑ "Gordon Solie". World Wrestling Entertainment. http://www.wwe.com/superstars/halloffame/inductees/gordonsolie/bio/

. Retrieved 2008-03-25

.

 

↑ "Stone Cold Steve Austin". World Wrestling Entertainment. http://www.wwe.com/superstars/halloffame/inductees/stonecoldsteveaustin/bio/

. Retrieved 2009-01-13

.

 

↑ "Ricky Steamboat". World Wrestling Entertainment. http://www.wwe.com/superstars/halloffame/inductees/rickysteamboat/bio/

. Retrieved 2009-02-24

.

 

↑ "Bill Watts". World Wrestling Entertainment. http://www.wwe.com/superstars/halloffame/inductees/billwatts/bio/

. Retrieved 2009-02-28

.

 

↑ "Koko B. Ware". World Wrestling Entertainment. http://www.wwe.com/superstars/halloffame/inductees/kokobware/bio/

. Retrieved 2010-02-13

.

 

↑ "Howard Finkel". World Wrestling Entertainment. http://www.wwe.com/superstars/halloffame/inductees/howardfinkel/bio/

. Retrieved 2009-03-25

.

 

↑ ""The Million Dollar Man" Ted DiBiase". World Wrestling Entertainment. http://www.wwe.com/superstars/halloffame/inductees/themilliondollarman/bio/

. Retrieved 2010-02-09

.

 

↑ "Antonio Inoki". World Wrestling Entertainment. http://www.wwe.com/superstars/halloffame/inductees/antonioinoki/bio/

. Retrieved 2010-02-15

.

 

↑ "Wendi Richter". World Wrestling Entertainment. http://www.wwe.com/superstars/halloffame/inductees/wendirichter/bio/

. Retrieved 2010-02-22

.

 

↑ ""Mad Dog" Vachon". World Wrestling Entertainment. http://www.wwe.com/superstars/halloffame/inductees/mauricevachon/bio/

. Retrieved 2010-03-01

.

 

↑ "Gorgeous George enters Hall of Fame". World Wrestling Entertainment. 2010-03-15. http://www.wwe.com/inside/news/gorgeoushof

. Retrieved 2010-03-15

.

 

↑ "Gorgeous George". World Wrestling Entertainment. http://www.wwe.com/superstars/halloffame/inductees/gorgeousgeorge/bio/

. Retrieved 2010-03-15

.

 

↑ "Stu Hart". World Wrestling Entertainment. http://www.wwe.com/superstars/halloffame/inductees/stuhart/bio/

. Retrieved 2010-03-15

.

 

↑ "Bob Uecker". World Wrestling Entertainment. http://www.wwe.com/superstars/halloffame/inductees/bobuecker/

. Retrieved 2010-03-23

.

 

↑ "The Valiant Brothers". World Wrestling Entertainment. http://www.wwe.com/superstars/halloffame/inductees/valiantbrothers/bio/

. Retrieved 2007-04-24

.

 

↑ "The Blackjacks". World Wrestling Entertainment. http://www.wwe.com/superstars/halloffame/inductees/blackjacks/bio/

. Retrieved 2007-04-24

.

 

↑ "The Wild Samoans". World Wrestling Entertainment. http://www.wwe.com/superstars/halloffame/inductees/wildsamoans/

. Retrieved 2007-04-24

.

 

↑ "Jack Brisco". World Wrestling Entertainment. http://www.wwe.com/superstars/halloffame/inductees/jackbrisco/bio/

. Retrieved 2008-03-10

.

 

↑ "Gerald Brisco". World Wrestling Entertainment. http://www.wwe.com/superstars/halloffame/inductees/geraldbrisco/bio/

. Retrieved 2008-03-10

.

 

↑ "The Funks". World Wrestling Entertainment. http://www.wwe.com/superstars/halloffame/inductees/thefunks/bio/

. Retrieved 2009-02-17

.

 

↑ "The Von Erichs". World Wrestling Entertainment. http://www.wwe.com/superstars/halloffame/inductees/vonerichs/bio/

. Retrieved 2009-03-17

.

 

↑ ."A Blast From The Past—The Federation Hall Of Fame". World Wrestling Federation Magazine 13 (9): 54–57. September 1994. 8756-7792.

 

↑ Greenberg, Keith Elliot (September 1995). King of the Ring Results. 14. p. 35. 8756-7792.

 

↑ "In Your House 11: Buried Alive". World Wrestling Federation employees. WWF In Your House. pay-per-view providers.
↑ Oliver, Greg (2006-04-02). "Hall of Fame inductions sincere and entertaining". SLAM! Sports — Wrestling. Canadian Online Explorer. http://slam.canoe.ca/Slam/Wrestling/2006/04/02/1515996.html

. Retrieved 2009-02-15

.

 

↑ Martin, Adam (2007-04-01). "WWE Hall of Fame — Class of 2007 Ceremony on USA Network". WrestleView.com. http://www.wrestleview.com/news2006/1175404443.shtml

. Retrieved 2009-02-15

.

 

↑ "Be a part of the 2008 WWE Hall of Fame Induction Ceremony". World Wrestling Entertainment. 2008-03-28. http://www.wwe.com/superstars/halloffame/articles/hoffacts

. Retrieved 2009-02-15

.

 

↑ "WWE Hall of Fame 2009 Ticket Info". World Wrestling Entertainment. http://www.wwe.com/schedules/events/eventdetail/?id=8873388

. Retrieved 2009-02-15

.

 

↑ "WWE Hall of Fame 2010 Ticket Info". World Wrestling Entertainment. http://www.wwe.com/schedules/events/rw/eventdetail/13171052

. Retrieved 2010-01-07

.

 

↑ Schoolcraft, Lisa R. (2009-09-25). "Atlanta is bidding for WrestleMania". Atlanta Business Chronicle. http://atlanta.bizjournals.com/atlanta/stories/2009/09/28/story6.html

. Retrieved 2010-02-01

.

 

↑ WWE Magazine. August 2010. pp. 69.

 

External links

Edit